Sorley, the narrator of my books Oraiáphon and Empire's Reckoning, dreams of being a scáeli. In the language of my country of Linrathe and the province of Sorham, a scáeli has much the same role as a bard.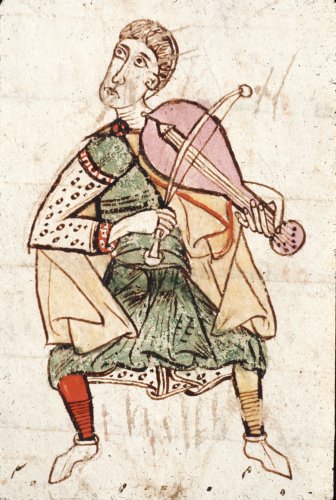 Scáeli'en are the memory-keepers of their people, just are bards were. They know the genealogies and the history; they write songs and poems to add to that knowledge, and they may be attached to a noble house or a school. In this, they mirror the traditional Gaelic bard. These roles are shared with the Scandinavian skald, but the skald also recorded laws and the deliberations of councils and rulers, another task I assigned to the scaeli'en.
Scops – a very closely related word – appear in the courts of the medieval Anglo-Saxon rulers. While they served a similar role, it is believed there was more emphasis on creating poetry to highlight the deeds of the ruler: a PR man, if you will. This role is not one I gave to the scaeli'en. (Some scholars doubt scops truly existed: the idea of them being seen as a link to a heroic past.)
The word skald is closely related to scold, and scop to scoff, and to be jeering or rebuking was part of the tradition of their poetry. Again, this isn't a characteristic of the poetry of scáeli'en, although their works can be amusing, especially those written primarily for children.
In The Music and 'Scopic' (Bardic/Skaldic) Elements of our Anglo-Saxon Ancestors, Andrew Glover describes the role: "the "scop"… bard/skald, who acted not just as story teller and song smith but also as the societies' history keeper in a time of little literacy amongst the common folk, where did they fit in to the warrior farmer society? They were not seen as outcasts, scroungers, weirdo's or nuisances and freeloaders as much of society sees musicians today, but were exalted as an integral part of the society, as story telling entertainers, comedians, singers of songs, makers of songs, keepers of the societies histories, laws, ways and lore of the people amongst whom they had grown up and lived."
The website of the National Museum of Ireland indicates "At the Bardic Schools students spent three or more years as they studied each level of poetry prior to their progression to the next level." I've mirrored this: Sorley spends five years learning to be a scáeli, and he then is required to travel and song-gather – literally as a journeyman – before he can sit his examination. Scáeli'en are revered in my world, much as they were historically: they travel unarmed, because to kill or injure one is forbidden, and every landowner welcomes them.
Scáeli'en in my world must also always tell the truth, unless the truth is not theirs to tell and they have been forbidden to speak it. I can't find any documentation that supports this: whether I remember it from nearly 60 years of reading, or if I actually made this bit up, I'm not sure.
As with most of my 'invented' languages, scáeli is a modified word, adapted from scéalaí, Irish for 'storyteller' (at least according to Google Translate, although I admit to being more familiar with seanchaí), but its plural follows a Germanic format – the addition of 'en'. (We see this ending rarely in plural English words such as brethren: brother-en).
Sorley has only two things he truly wants, and one of them is to be a scáeli. Is he successful? Find out in Empire's Reckoning!
Processing…
Success! You're on the list.
Whoops! There was an error and we couldn't process your subscription. Please reload the page and try again.