The English county of Norfolk, as those who have been following my blog for some time know, is my second home. When I will see it again, in the wake of COVID-19, is another question, but it has a firm hold on my heart, my imagination, and a solid place in the construction of my fictional world.
Anyone who knows Norfolk – and my books – may now be asking how? A flat land, for the most part; arable, with little rivers and chalky soils and patches of reedy fen. Not the hilly, sheep-grazed moorland that so much of my world encompasses. No, the influences are more subtle.
Firstly, Norfolk was part of the Danelaw, the part of England under Scandinavian rule. Twenty-nine existing places in Norfolk have 'thorpe' as a suffix or prefix, and while this happens to be my last name, its meaning 'outlying hamlet, small village' is from the Norse þorp, and from it I take my settlement names in Linrathe and Sorham. In fact, Ingoldstorp, mentioned several times over the series, is the name of the village (Ingoldisthorpe, pronounced Inglesthorpe) just north of the one where I have spent my winters since retirement.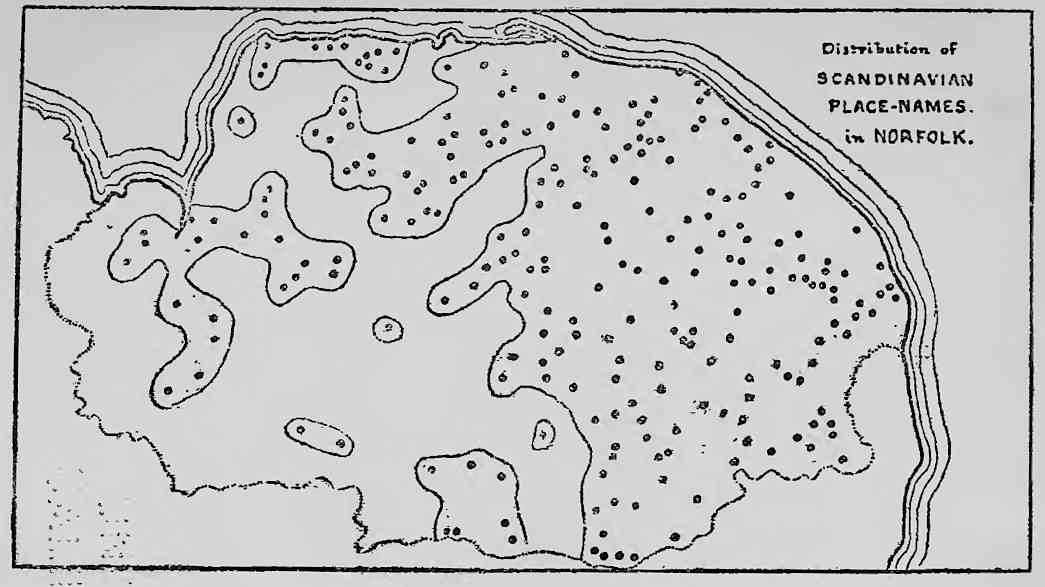 The next village north from that is Snettisham, and I borrowed Snetti's name, too, for a minor character. There are more examples, but I won't belabour this point. But in the last paragraph I wrote 'twenty-nine existing places'. There are also thirty-three 'lost' villages in Norfolk with 'thorpe' in their names, and it is these missing settlements that also inform my world.
Deserted medieval village is the correct term for these abandoned settlements. In many cases there is nothing but a few lumps and bumps on the ground, and perhaps the ruins of a church. (Or sometimes, a church still in use, but standing in the middle of nowhere, apparently.) The reasons for abandonment are many, including land enclosure and parkland created for manor houses. Others suffered as rivers changed course or land flooded. But in Norfolk, one reason was simply depopulation.
Norfolk is now 40th of the 48 counties of England in population density, the number of people per unit of land. But in the middle ages, it was the most populous county, and its county town, Norwich, the second city of England. Until the plague: first the Black Death in 1349; then, two centuries later, a third of its population died in the epidemic of 1579, and another third in 1665.
The land Lena inhabits is like this, a depopulated land, villages scattered and distant, too few men to defend the land against threats from two directions. The reasons for the Empire's depopulation and that of Norfolk are pretty much the same, although the Eastern Fever isn't the Black Death.
But while Norfolk – and the Empire – are depopulated lands, they both have long histories. If Lena rides east from her coastal village, she will come to the military road, running north and south, wide and paved. If I walk or drive east from my Norfolk village, about, in my mind, the same distance, I come to a Roman road, running north and south. No longer paved; no longer very wide, but a reminder, every time I walk it, of a time there was a Roman fort on the coast, and villas along the ridge overlooking the Wash, and the coins in use bore the likenesses of emperors far away.
Danes and Romans; disease and depopulation; all these are important aspects of my books, influenced – sometimes consciously, sometimes not – by what I know. Not reproduced, but borrowed, moulded and transmuted into a different form, almost recognizable, almost history.
map of Scandinavian place names https://www.mygen.com/users/outlaw/Outlawe_Viking_Origins.htm
Like what you've read? Sign up for News from the Empire, my monthly newsletter with more of the history behind my books, short stories, and cat pictures.
Processing…
Success! You're on the list.
Whoops! There was an error and we couldn't process your subscription. Please reload the page and try again.